Overwhelmed? Not sure where to begin?
We know how challenging it can be to think about sorting through a lifetime's worth of possessions and downsizing your home.
Your Diva can work with you to start downsizing and find new "homes" for items you no longer want, use or need. Start small. Start today! If you're looking for a downsizing company for seniors, contact us to learn more about our senior downsizing services.
Benefits of Downsizing for Seniors
Keep the BEST. Release the REST.
You deserve to live a less complicated life and
Time to connect with family and friends.
Opportunities to relax and do the things you love to do.
A weight lifted off your mind.
As a senior or older adult you have lived in the same house for 20, 30, 40 or 50+ years and have accumulated a lifetime of treasures. You may even have formed emotional attachments to some of your stuff which makes it even more difficult to let go.
If you are thinking about downsizing, remind yourself that your family probably does NOT want most of your stuff" and you are half-way there.
Times and styles change. The solid wood furniture you may have in your home is not likely the furniture to appeal to a generation of young people, now in the acquiring phase of their lives. Today, it's all about "mid-century modern", teak and furniture that fits easily into smaller condos and apartments.
BUT, you say...there are some things my family and friends really do want!
Great! If you can live without these treasures, share them now and accomplish two things – lighten-up your space AND enjoy watching someone else treasure the items that once brought you so much joy! Win-win!
When is the best time to downsize, you ask? The answer is NOW!
Start small. Start today. Remove everything from a drawer/cupboard, sort and let go of items you no longer want, use or need. Return the rest of the items to the drawer/cupboard in an orderly fashion and, as one of our Divas would say, "it's a thing of beauty!"
Diva Tips to Help With Downsizing:
Downsizing is SIMPLY mathematical.
1. Determine what will fit in your new home.
2. Keep things you want, use and need.
3. Let go of the rest.
You can downsize and release surplus items in different ways - give special keepsakes to family and friends, donate surplus items to your favourite charity, recycle things and, of course, schedule the inevitable "garbage run".
Once you have decided to get started, your Diva will be with you... every step of the way. After all, we've been providing senior downsizing services in the Greater Toronto Area since 2001.
Lighten-up.
Stop living to have and start living to become.
Check out our Blog for more tips on downsizing for seniors.
Testimonials
What others have to say.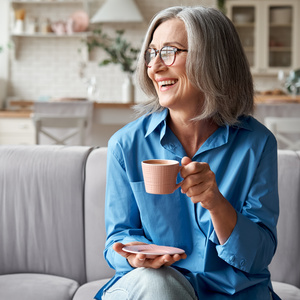 Barb
I would not have been able to leave my large home on 4 acres where I have lived for 20 years and move to a small townhome in an adult resort community had your amazing team not worked with me and held my hand every step of the way.
Daughter of Client
Downsizing Divas was the perfect fit for my mother's move from an 1860 sq ft condominium to an 860 sq ft seniors home. From our first meeting to the last unpacked box, the support was wonderful. Not only does the family need practical advice at this time, they also require the utmost patience and sensitivity to the symbolism and significance of the new chapter ahead for all family members.
Barbara
In hindsight if it had not been for Downsizing Divas, I think I would still be in my original home sorting through memorabilia stored in the cold room and feeling like I was stuck in an endless loop of sorting and packing.
Is downsizing on YOUR mind?
Are you looking for a company that helps seniors downsize?
Whether you want to downsize as part of an upcoming move or just want to get back to basics, your Diva can help. We offer downsizing assistance for seniors in souther Ontario.
Find Your Diva